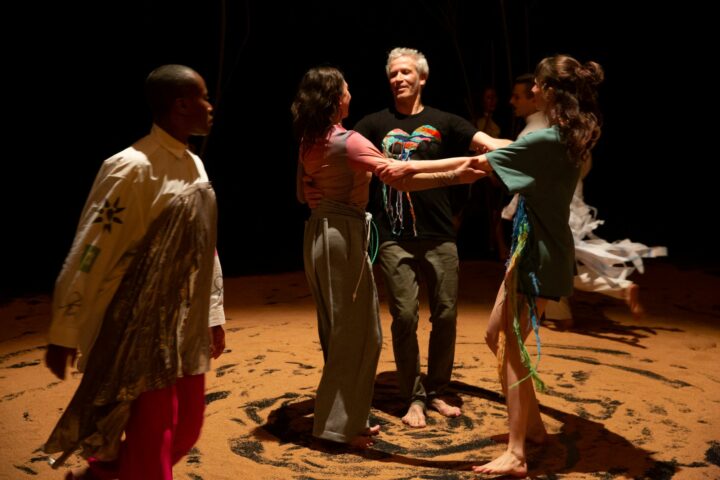 Dans cette chorégraphie, Daniel Linehan invite 9 danseurs à se pencher sur leur histoire et à s'interroger sur le rôle que la danse a joué dans leur vie. Quelles sont les raisons qui nous poussent à passer une si grande partie de notre vie à danser ? Comment et pourquoi continue-t-on ? Quand la danse commence-t-elle et quand s'arrête-t-elle ?
En 2019, Linehan créait le solo Body of Work, dans lequel il s'interrogeait sur son propre rapport à la danse. Avec Kiss The One We Are, il reprend le même mode de questionnement interne et l'externalise, revisitant les mêmes questions intimes qu'il s'est posées pour la création de son solo, en les adressant à un groupe de danseurs portant tous leur propre histoire. Ce faisant, ils réfléchissent ensemble au sens même de la danse. Celle-ci a le pouvoir de créer des liens entre les histoires individuelles de chacun et de les rassembler sur un terrain de jeu commun, à travers la connexion physique des corps ainsi que l'attention que nous portons les uns aux autres lorsque nous partageons des expériences corporelles. Le fait de danser ensemble évoque également les diverses et nombreuses danses constamment présentes tout autour de nous : celle des animaux jouant entre eux, celle des particules atomiques qui vibrent et interagissent en permanence, la lente chorégraphie de la croissance des plantes, les rythmes variés de l'océan. Chaque danseur dispose d'un espace pour réfléchir à ce qu'est l'expérience de la vie et du monde environnant, à travers le prisme de la danse.
Calendrier
Afficher les dates passées
Cacher les dates passées
Credits
Concept & chorégraphie Daniel Linehan
Création & interprétation Javier Arozena, Ziv Frenkel, Gorka Gurrutxaga Arruti, Anneleen Keppens, Noa Liev, Omagbitse Omagbemi, Jean-Baptiste Portier, Jone San Martin, Louise Tanoto
Assistant à la création Noa Liev
Costumes Frédérick Denis
Scénographie Marie Szersnovicz
Assistente scénographie Janneke Hertoghs
Lumière Elke Verachtert
Son Christophe Rault
Production Hiatus (Bruxelles, BE)
En collaboration avec Dance On Ensemble (Berlin, DE)
Coproduction STUK (Louvain, BE), Théâtre National de Chaillot (Paris, FR), Perpodium (Anvers, BE)
Résidences CC De Factorij (Zaventem, BE), STUK (Louvain, BE), Kaaitheater (Bruxelles, BE), DE SINGEL (Anvers, BE), vierNulvier (Gand, BE)
Représentation internationale Damien Valette (Paris, FR)
Daniel Linehan/Hiatus est soutenu par les autorités flamandes et le Tax Shelter du gouvernement fédéral belge. Hiatus, en collaboration avec BOS+, contribue à la reforestation de notre planète.
Cette création s'inscrit dans le cadre de DANCE ON, PASS ON, DREAM ON, un projet coopératif étalé sur quatre ans et financé par Creative Europe, qui adresse la question de l'âgisme dans le secteur de la danse et dans la société. DANCE ON, PASS ON, DREAM ON est soutenu par les partenaires internationaux suivants : Bureau Ritter (Berlin, DE), Codarts University of the Arts (Rotterdam, NL), Compagnie Jus de la Vie | Age on Stage (Stockholm, SE), Holland Dance Festival (The Hague, NL), Nomad Dance Academy Slovenia (Ljubljana, SI), Sadler's Wells (Londres, UK), STUK House for Dance, Image & Sound (Louvain, BE), Mercat de les Flors (Barcelone, ES), Station Service for Contemporary Dance (Belgrade, RS), KUMQUAT Productions  (Paris, FR), Onassis Stegi (Athènes, GR). https://dopodo.eu/
Presse