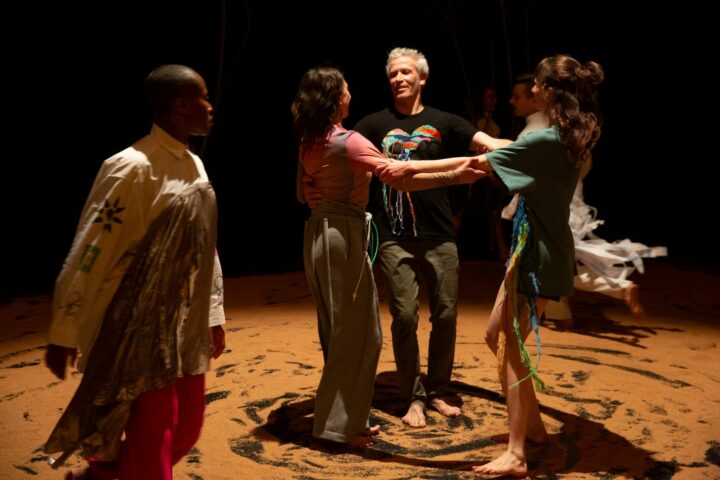 In this piece, Daniel Linehan invites nine dancers to reflect on their histories and what role dance has played in their lives. What are the reasons one chooses to spend so much of one's life dancing? How does one continue? When did the dance start and when does the dance end?
In 2019 Linehan created a solo called Body of Work in which he reflected on his own history of dancing, and in Kiss The One We Are, he takes this mode of internal questioning and makes it external, revisiting some of the same intimate questions that he asked himself in this personal solo, and posing these questions to a group of dancers with their own diverse histories. In asking these questions, together we reflect on the meaning of dance itself. Dance has the potential to make connections between individual histories and bring these stories together into a common field of play, through the physical connection of bodies as well as the attention we give each other when we share embodied experiences. Our dancing together can also connect to the many diverse dances that are always happening all around us: the play of animals, the slow choreography of plants growing, the rhythms of the ocean, the dance of atomic particles continually vibrating and interacting. Each dancer is given the space to reflect on what it is to experience life and the surrounding world through the lens of dance.
Calendar
Show past dates
Hide past dates
Credits
Concept & choreography Daniel Linehan
Creation & performance Javier Arozena, Ziv Frenkel, Gorka Gurrutxaga Arruti, Anneleen Keppens, Noa Liev, Omagbitse Omagbemi, Jean-Baptiste Portier, Jone San Martin, Louise Tanoto
Creative partner Noa Liev
Costumes Frédérick Denis
Scenography Marie Szersnovicz
Scenography assistant Janneke Hertoghs
Light design Elke Verachtert
Sound design Christophe Rault
Production Hiatus (Brussels, BE)
In collaboration with Dance On Ensemble (Berlin, DE)
Coproduction STUK (Leuven, BE), Théâtre National de Chaillot (Paris, FR), Perpodium (Antwerpen, BE)
Residencies CC De Factorij (Zaventem, BE), Kaaitheater (Bruxelles, BE), DE SINGEL (Antwerpen, BE), STUK (Leuven, BE), vierNulvier (Gent, BE)
International representation Damien Valette (Paris, FR)
Daniel Linehan/Hiatus Daniel Linehan, Hiatus is supported by the Flemish authorities. In partnership with BOS+, Hiatus contributes to the reforestation of our planet.
The creation is part of DANCE ON, PASS ON, DREAM ON, a four-year Creative Europe-funded cooperation project addressing ageism in the dance sector and in society. DANCE ON, PASS ON, DREAM ON is supported by the following international partners; Bureau Ritter (Berlin, DE), Codarts University of the Arts (Rotterdam, NL), Compagnie Jus de la Vie | Age on Stage (Stockholm, SE), Holland Dance Festival (The Hague, NL), Nomad Dance Academy Slovenia (Ljubljana, SI), Sadler's Wells (London, UK), STUK House for Dance, Image & Sound (Leuven, BE), Mercat de les Flors (Barcelona, ES), Station Service for Contemporary Dance (Belgrade, RS), KUMQUAT Productions  (Paris, FR), Onassis Stegi (Athens, GR). https://dopodo.eu/
Press