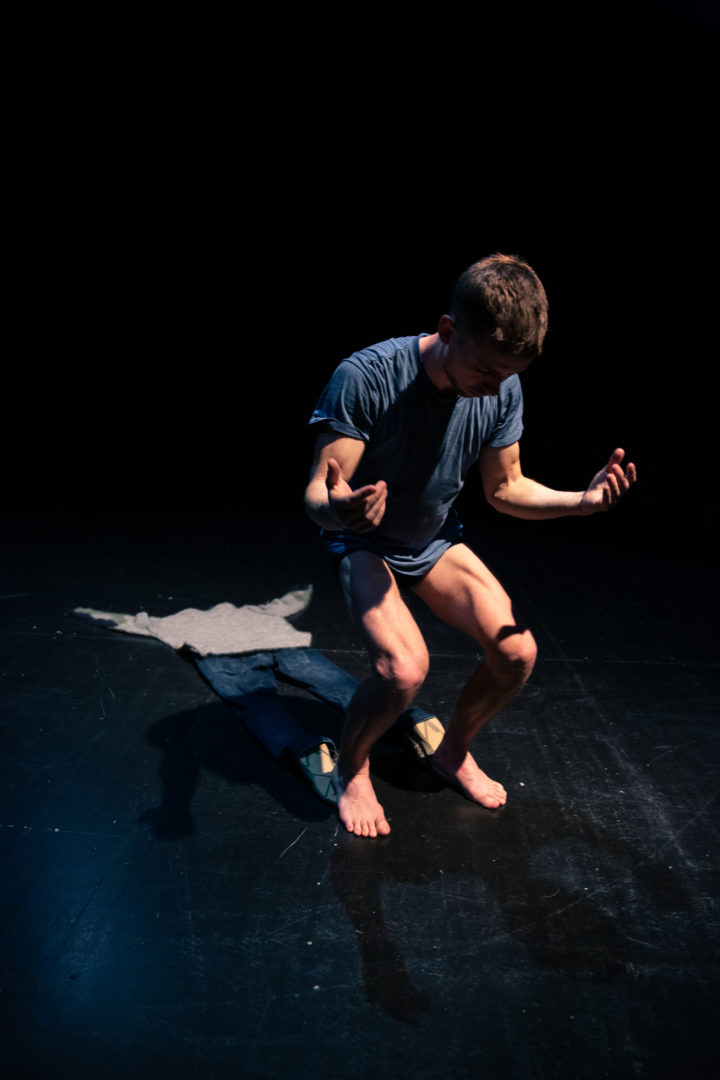 People say that dance is an ephemeral art form which only exists in the moment of the performance, and then disappears immediately afterward. But any dancer can tell you that this is untrue. Dance and choreography leave traces that remain on the body long afterwards. Sometimes these traces are quite physical and concrete, the accumulation of muscle or the trauma of injuries. But mostly they are ghostly traces which involve the repetition and memory of movements that continue to inhabit and influence the body. The dances of the past continue to dwell in the dancer's body today.
In Body of Work, Daniel Linehan explores this idea in relationship to his own body and his own history of dancing and choreographing. He proposes a retrospective archaeology, digging into his past 15 years of creating dances, uncovering fragments of choreography that still remain in his body after all this time. He allows these persistent traces to speak back to him. Don't his dances from the past have something further to say, something which remained unsaid before? Like a scar that tells a story of the past, how do the traces from his past continue to exist in his body today?
The solo takes on the form of a memory, with soft edges, and gaps where movements have been forgotten, and distortions where movements have been mis-remembered or re-imagined. Gestures and fragments from his dances combine with gestures and intimate memories from his childhood and personal reflections on the world we live in. The result is a choreography of the passage of time, which recognizes that the past is always very much inscribed in the present.
Calendar
Show past dates
Hide past dates
Credits
Concept & performance Daniel Linehan
Dramaturgy Noa Liev
Outside eye Michael Helland
Scenographic advice 88888
Costume design Frédérick Denis
Lighting design Elke Verachtert
Sound Christophe Rault
Production Hiatus (Brussels, BE)
Coproduction deSingel International Arts Campus (Antwerp, BE), Kaaitheater (Brussels, BE)
Residencies Art Centre BUDA (Kortrijk, BE), Kaaitheater (Brussels, BE), deSingel (Antwerp, BE), Vooruit Arts Centre (Ghent, BE)
International representation Damien Valette (Paris, FR)
With the support of the Flemish authorities
Daniel Linehan, Hiatus is Creative Associate at deSingel International Arts Campus (Antwerp, BE) and supported by the Flemish authorities 2017-2021.
Press