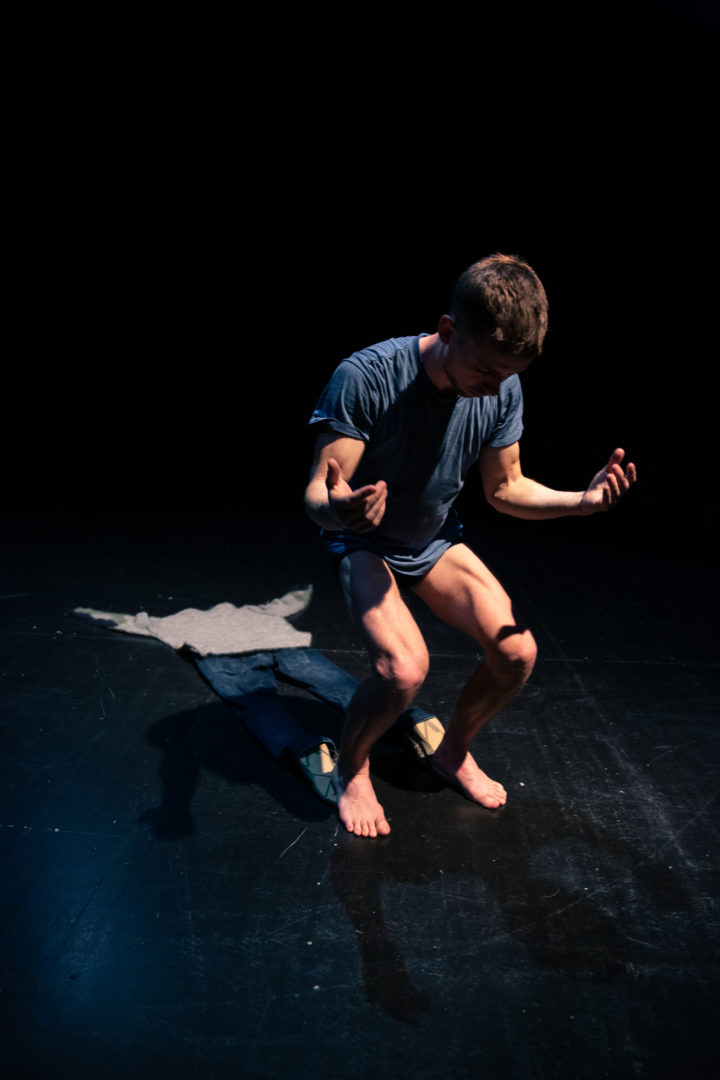 Dans wordt beschouwd als een efemere kunstvorm die onmiddellijk verdwijnt na het momentum van de voorstelling. Maar elke danser zal je het tegenovergestelde vertellen. Dans en choreografie laten langdurig sporen na in het lichaam. Soms zijn deze sporen fysiek en concreet: de ontwikkeling van spieren of het trauma van een blessure. Maar meestal zijn het onwezenlijke sporen: de herhaling van, en de herinnering aan bewegingen die in het lichaam resoneren en het langdurig beïnvloeden. Dansen uit het verleden blijven leven in het lichaam van de danser.
In Body of Work onderzoekt Daniel Linehan dit idee in relatie tot zijn eigen lichaam en tot zijn eigen geschiedenis als danser en choreograaf. Linehan maakt een retrospectieve archeologie: hij verdiept zich in het choreografisch materiaal dat hij de afgelopen 15 jaar creëerde en ontdekt fragmenten die na al die tijd nog aanwezig zijn in zijn lichaam. Hij laat deze blijvende sporen tot hem spreken. Onthullen zijn vroegere dansen niet nog iets diepers, iets dat nog nooit eerder werd gezegd – als een litteken dat een herinnering uit het verleden oproept? Hoe blijven sporen uit zijn verleden verder leven in zijn lichaam vandaag?
De solo neemt de vorm aan van een tedere herinnering, met onderbrekingen waar bewegingen zijn vergeten, en vervormingen waar ze verkeerd zijn onthouden of opnieuw zijn uitgevonden. Linehan combineert bewegingen en fragmenten uit zijn choreografieën met gebaren en intieme herinneringen uit zijn kindertijd, en persoonlijke mijmeringen over de wereld waarin we leven. Het resultaat is een choreografie over het verstrijken van de tijd, die erkent dat het verleden altijd sterk verankerd is in het heden.
Kalender
Toon voorbije data
Verberg voorbije data
Credits
Concept & performance Daniel Linehan
Dramaturgie Vincent Rafis
Externe blik Michael Helland
Scenografisch advies 88888
Kostuumontwerp Frédérick Denis
Lichtontwerp Elke Verachtert
Geluid Christophe Rault
Productie Hiatus (Brussels, BE)
Coproductie deSingel International Arts Campus (Antwerp, BE), Kaaitheater (Brussels, BE)
Residenties Art Centre BUDA (Kortrijk, BE), Kaaitheater (Brussels, BE), deSingel (Antwerp, BE), Vooruit Arts Centre (Ghent, BE)
Internationale spreiding Damien Valette (Paris, FR)
Met de steun van de Vlaamse Regering
Daniel Linehan, Hiatus wordt gesteund door de Vlaamse regering en is
Creative Associate 2017-2021 in deSingel Internationale Kunstencampus (Antwerpen, BE).
Pers