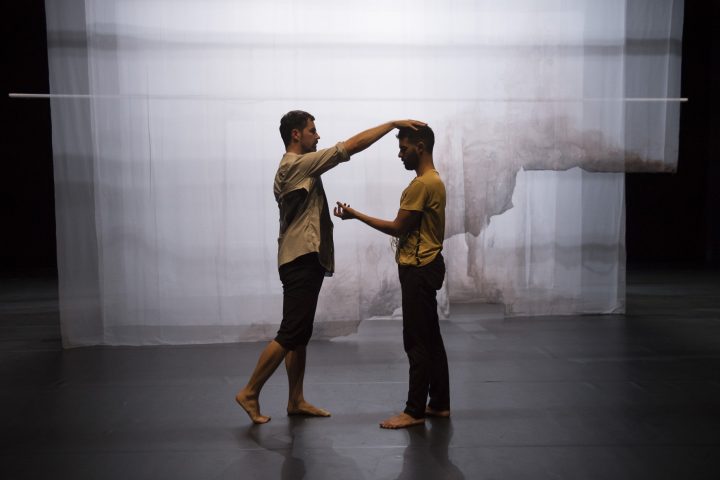 Flood is een choreografie van opkomen en afgaan. Telkens iemand een ruimte binnenkomt, is er een gevoel van anticipatie: wat gaat deze persoon doen? Wanneer iemand de ruimte verlaat, ontstaat nieuwsgierigheid: waar is die persoon naartoe? Wanneer komt hij of zij terug?
Door deze eenvoudige handelingen, wil Linehan reflecteren op de dominante plaats die verschijnen en verdwijnen innemen in onze ervaring van de wereld vandaag. We leven in een tijdperk van toenemende technische vooruitgang, maar tegelijkertijd verdwijnen oudere technieken en opvattingen aan versneld tempo, en gaat het milieu er gestaag op achteruit.
Tussen elk opkomen en afgaan, brengen de dansers een reeks bewegingen die zichzelf lijken te herhalen, maar eigenlijk voortdurend in transformatie zijn. Oudere bewegingsfragmenten gaan verloren en worden vervangen door nieuwere, geüpdatet variaties van dezelfde beweging. Het dansen versnelt en lichaamsonderdelen schieten door de ruimte als kleine projectielen naar en weg van zichzelf en de andere performers. Op andere momenten, vertraagt het dansen plots waardoor details zichtbaar worden die dat aan hoge snelheid niet zouden zijn. Met Flood staat Linehan stil bij de dominante waarde van snelheid en vraagt hij zich af of het echt mogelijk is om deze trend van versnelling te onderbreken door bewust te vertragen.
Temidden van onze wegwerpmaatschappij en de zondvloed aan nieuwe technologieën en alsmaar frequentere productupdates, stelt Daniel de culturele dominantie van het nieuwe in vraag. Tegelijkertijd overschouwt hij wat verdwijnt en overbodig wordt terwijl ons sociaal gedrag en onze omgeving aan een steeds sneller tempo transformeren.
Kalender
Toon voorbije data
Verberg voorbije data
Credits
Creatie Daniel Linehan
Performance Erik Eriksson, Michael Helland, Anneleen Keppens, Victor Pérez Armero
Dramaturgisch advies Noa Liev
Decor 88888
Kostuums Frédéric Denis
Assistentie kostuumontwerp Charlotte Matterne
Geluidsontwerp Peter Lenaerts
Lichtontwerp Elke Verachtert
Productie en spreiding in België Hiatus (Brussel, BE)
Uitvoerende productie Caravan Production (Brussel, BE)
Internationale spreiding Damien Valette (Parijs, FR)
Coproductie deSingel Internationale Kunstencampus (Antwerpen, BE), Centre Chorégraphique National de Rillieux-la-Pape (FR), Festival Montpellier Danse 2017
Residenties STUK (Leuven, BE), Kaaitheater (Brussel, BE), deSingel Internationale Kunstencampus (Antwerpen, BE), Centre Chorégraphique National de Rillieux-la-Pape (FR), Charleroi Danse, La Raffinerie (BE)
Daniel Linehan, Hiatus wordt gesteund door de Vlaamse regering en is
Creative Associate 2017-2021 in deSingel Internationale Kunstencampus (Antwerpen, BE).

Pers