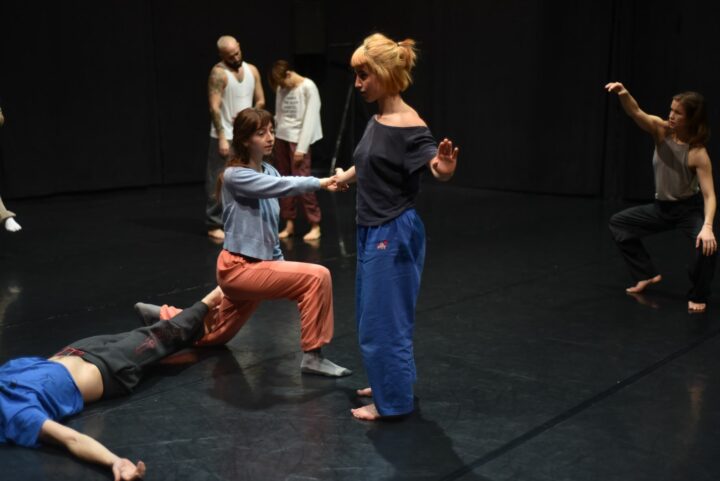 De dansers van Hiatus hebben allemaal hun favoriete fysieke oefeningen. Bewegingsonderzoek, experimenten rond compositie, de dimensie van een groep, het verkennen van een thema en hoe alles verbonden is met de wereld rondom ons. Alles zit verweven in de voorstellingen van het gezelschap. In de Open Mondays nodigt Hiatus deelnemers uit in de dansstudio om ze zelf te beleven.
In elke sessie van Open Monday delen twee dansers enkele oefeningen rond beweging. Het doel is niet zozeer om een choreografie te leren, maar om onszelf en elkaar te verrijken en inspireren. We delen onze ervaring, verbinden door beweging en verkennen de mogelijkheden van ons lichaam.
Open Monday is een uitnodiging om onze week te starten met nieuwsgierigheid en generositeit.
Iets voor mij?
Iedereen kan deelnemen, als je maar nieuwsgierig bent en zin hebt om je lichaam te bewegen. Het is niet belangrijk of je al eerder danste of niet. Professional of onervaren danser, wat je fysieke mogelijkheden ook zijn, je bent welkom tijdens Open Monday! De workshop wordt gegeven in het Engels maar zorgen voor eenvoudige instructies en helpen te vertalen als dat nodig is.
Waar en wanneer?
Elke laatste maandag van de maand van 19:00 tot 21:00 bij Hiatus in Molenbeek – Brussel
Deelnemen is gratis, maar inschrijven verplicht.
Kalender
Toon voorbije data
Verberg voorbije data