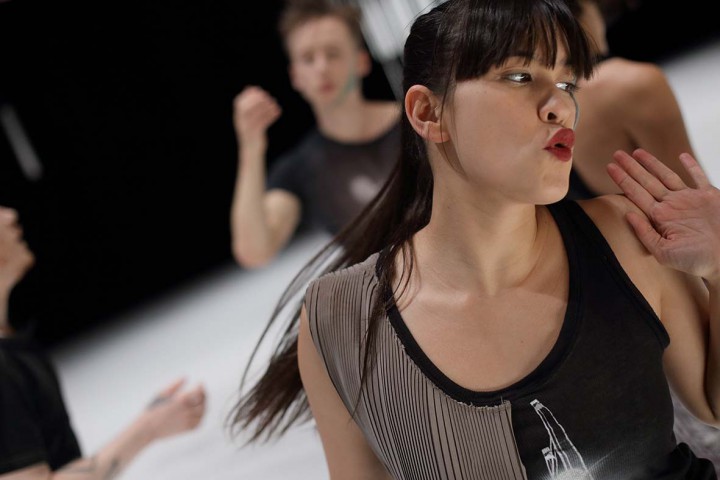 dbddbb is an intricate and boisterous choreography driven by a simple yet uncompromising rule: every step must be followed by another.
In this new creation by Daniel Linehan, five dancers are chanting and performing a "march". Their march can be a military exercise, but also a political protest, a sport or a game; it can be a ritualistic incantation or a dance party. The performers don't accompany their steps with words, songs or slogans but with dada-inspired chants. Their sounds and rhythms don't give any information – instead they almost become a physical, dancing entity in the space.
dbddbb examines the pleasures as well as the perils involved in the forces that bind a group. Instead of a classic unison, the choreography proposes a march of complex togetherness, of dynamic coordinations that leave space for the individual. The dancers move on the same beat, but at individual rhythms; move in the same direction but with individual gestures; move in the same tempo but with individual chants.
How can we continually re-establish and re-invigorate our sense of togetherness even while our points in common keep shifting? Can we find ways of moving together without losing ourselves? Reveling in the pleasures of vocal expression, dbddbb suggests that it might be necessary to invent a new language in order to move from this step to the next.
Calendar
Show past dates
Hide past dates
Credits
Concept, choreography Daniel Linehan
Dance, creation Marcus Baldemar, Anneleen Keppens, Liz Kinoshita, Daniel Linehan, Víctor Pérez Armero
Dramaturgical advice Manon Santkin
Outside eye Michael Helland
Stage design 88888
Lighting design Jan Fedinger
Costume design Frédérick Denis
Assistance costume design Charlotte Matterne
Technical coordination Elke Verachtert
Stage technician Clive Mitchel/Hugh Roche Kelly
Production Hiatus (Brussel, BE)
Executive production & Distribution Belgium Caravan Production (Brussel, BE)
International distribution Damien Valette (Paris, FR)
Co-production Opéra de Lille (FR), Théâtre de la Ville-Paris (FR), Les Spectacles vivants – Centre Pompidou (FR), deSingel International Arts Campus (Antwerp, BE), Festival de Danse – Cannes (FR)
With the support of the Flemish authorities
Press