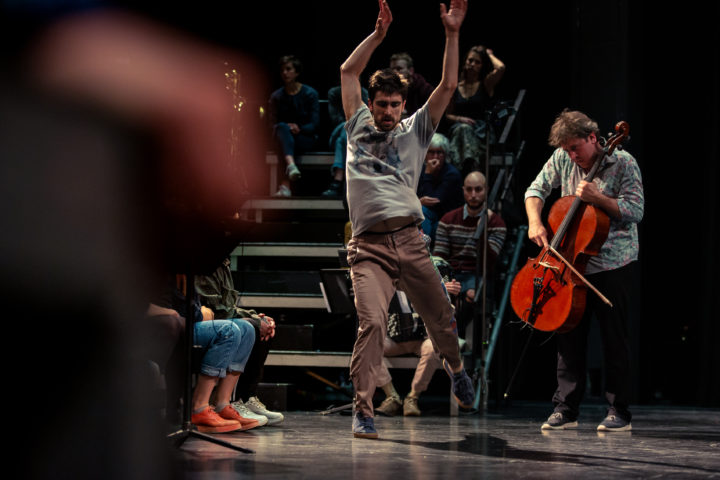 Working in close collaboration, composer Stefan Prins and choreographer Daniel Linehan create a hybrid music-dance performance concerned with the themes and paradoxes contained in the idea of "private matters".  What becomes of the value of privacy in a world of increasing surveillance and increasing public oversharing on social media platforms? And what becomes of our participation in public life, as it starts to include more virtual connections, so that geographic proximity plays an ever smaller role in our idea of a community? What is the meaning of intimacy in this constellation? Is the world really becoming more transparent, or isn't there always something private/hidden/internal that can't be fully exposed to the public's eyes and ears? Third Space triggers these questions
In collaboration with 7 dancers, 10 musicians of the renowned music ensemble Klangforum Wien and conductor Bas Wiegers, Linehan and Prins create a "third space" that cannot easily be categorized according to conventional binaries. This space is not entirely real and not entirely virtual, but instead it occupies a territory in between the two.  Blurring the distinction between music and dance, they consider bodies, spatial configurations and gestures of the conductor and musicians as part of the choreography, and the sounds made by dancers' movements as part of the musical composition.
Structured like a loop that happens twice, Third Space plays with the audience's perspective and perception. In each iteration, the audience will be privy to an entirely different set of information through the mediation of broadcasted video, audio, and live performance. Issues of the power of the mediated image arise. Who or what is in control? Who or what is driving the performance?
Calendar
Show past dates
Hide past dates
Credits
Concept Daniel Linehan & Stefan Prins
Choreography Daniel Linehan
Composition, sound Stefan Prins
Dance, creation Gorka Gurrutxaga Arruti, Renan Martins, Anne Pajunen, Victor Pérez Armero, Alexander Standard, Louise Tanoto, Katie Vickers
Live music Klangforum Wien – Yaron Deutsch (e-guitar), Uli Fussenegger (doublebass), Florian Müller (keyboard), Ivo Nilsson (trombone), Anders Nyqvist (trumpet), Dimitrios Polisoidis (viola), Gerald Preinfalk (saxophone), Lukas Schiske (percussion), Krassimir Sterev (accordion), Olivier Vivarès (clarinet)
Conductor Bas Wiegers
Dramaturgy Alain Franco
Scenography 88888
Video Damien Petitot
Lighting design Ralf Nonn
Costume design Frédérick Denis
Sound design & Sound engineering Florian Bogner, Peter Böhm
Musical composition – commissioned to Stefan Prins by the City of Münich for the Münchener Biennale – Festival für Neues Musiktheater 2018 – financed by the Ernst von Siemens Musikstiftung.
Production Hiatus (Brussels, BE) & Klangforum Wien (AT)
In collaboration with ICST – Institute for Computer Music and Sound Technology – Zürcher Hochschule der Künste (CH)
Coproduction Münchener Biennale – Festival für Neues Musiktheater 2018 (DE), deSingel International Arts Campus (Antwerp, BE)
Residencies deSingel International Arts Campus (Antwerp, BE), Charleroi Danse, La Raffinerie (Brussels, BE), Münchener Biennale – Festival für Neues Musiktheater 2018, Gasteig/Carl-Orff-Saal München (DE)
International representation for Hiatus Damien Valette (Paris, FR)
With the support of the Flemish authorities 
Daniel Linehan/Hiatus is Creative Associate at deSingel International Arts Campus 2017-2021 and supported by the Flemish authorities.
Press